If you like to explore remote, unspoilt areas of the country, Loch Maree offers open space in vast quantities.  You need to drive (or cycle) west of Inverness almost to the coast to reach this wonderful area.  One of the best views in the Highlands is the view you get as you drive over the summit into Glen Docherty and look west to the Loch, a few kilometres in the distance.
Poolewe and Inverewe Gardens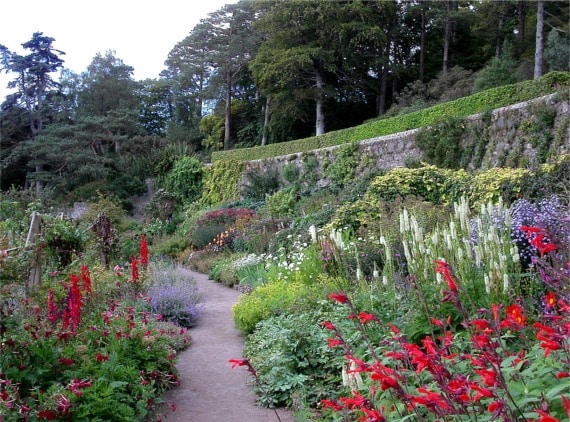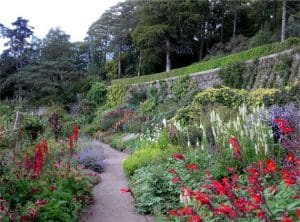 Loch Maree is much longer than it is wide (20km long but less than 4km at its widest). It pours out into the sea at Poolewe, which is an interesting little place in its own right.  It benefits from the warm Gulf Stream water, and if you happen to visit the Inverewe Garden, you'll be treated to all sorts of plants and trees that really shouldn't be in Scotland!
Given that Poolewe is at the same latitide as Moscow or Hudson Bay, it might surprise you to find rare Wollemi pines, Himalayan blue poppies, Californian redwoods and a fantastic variety of rhododendrons from China, Nepal and India. As you drive through the village, you see palm trees growing – quite bizarre!
Walking and biking around Loch Maree
Anyway, back to Loch Maree.  This wonderful Loch has plenty to offer the explorer, from awesome mountainous surroundings, historic islands, rare wildlife and a very wild feel about it.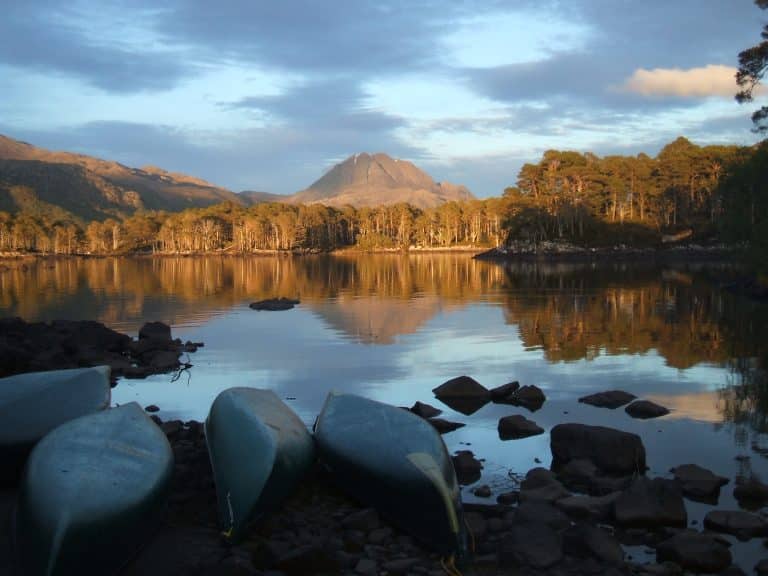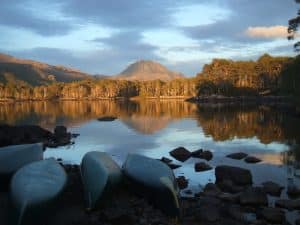 With a number of Munros looking down on the Loch including Slioch and Beinn Eighe, you definitely want to have a camera handy for some stunning landscape shots.  There is a huge variety of walking options (many of them lengthy, serious undertakings) in the area.  There are also what you might regard as 'epic' mountain bike routes in the area which aren't for the faint-hearted.
Not surprisingly, the route of the North Coast 500 follows its southern shores and makes a wonderful drive, or is awesome on a road bike too.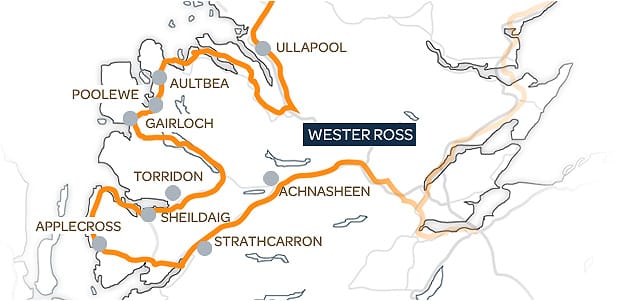 Outdoor learning for school groups
Each year we help entertain school groups staying in the area at Torridon Youth Hostel and Gairloch Youth Hostel.  Taking them canoeing & kayaking on the Loch gives them the chance to explore the islands and learn a few paddling skills on open (sometimes windy) water.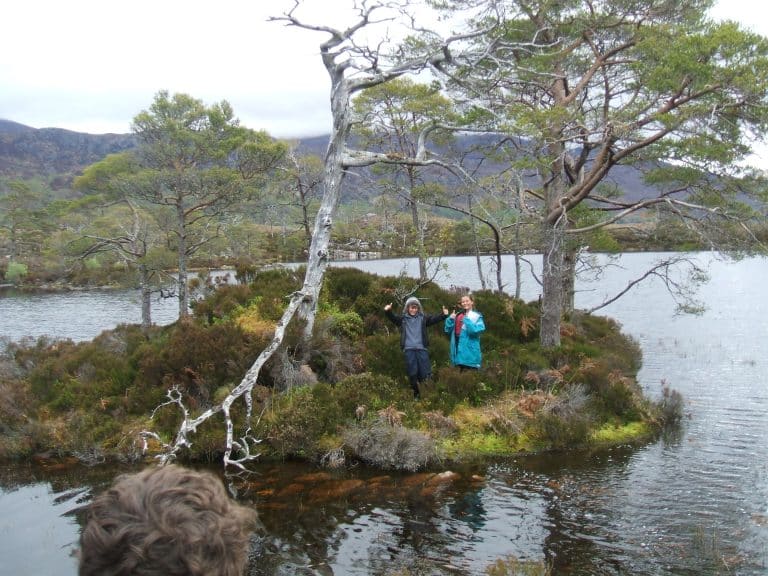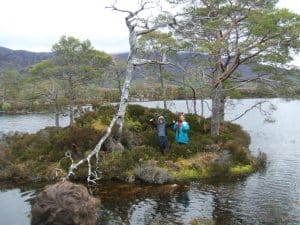 They learn a bit about the history of the Loch and we usually show them the secret loch on an island in a loch on an island in a loch on an island! We're pretty certain it's a one-of-a-kind!
We also provide mountain bikes for them to explore, giving the students an amazing few days of Wild Scotland at its best.
Canoe or kayak hire on Loch Maree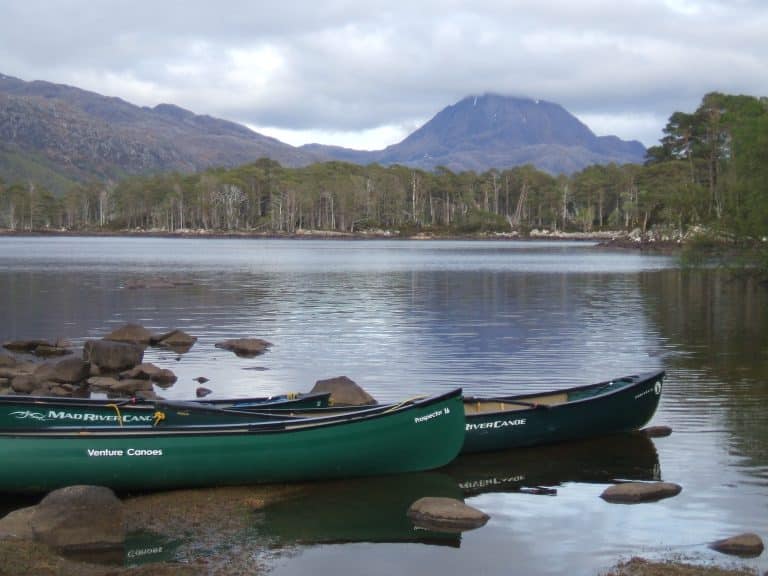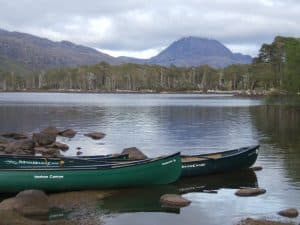 Canoe hire customers of ours in the past have combined paddling, wild camping and hill walking on trips when in the area, travelling from all over the world to experience the area.  There's a pretty good chance you won't bump into anyone else when out on the water paddling.
We can transport equipment there for you, if you can't transport canoes or kayaks there yourself.
The wildlife of Loch Maree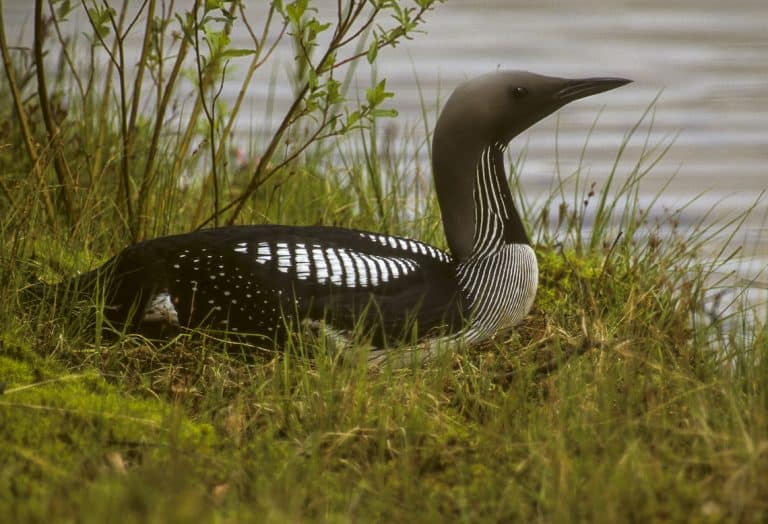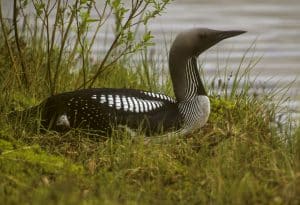 Wildlife lovers will be interested to know that Loch Maree is of international importance for its special wildlife and biodiversity.  It is the site of one of the largest breeding concentrations of black-throated diver in Great Britain. It is also home to breeding sea eagles (which are just awesome to see), as well as a special population of otters.
If you need any information on any of the wildlife in the area you can contact the local Scottish Natural Heritage office at Kinlochewe.  We always check with the local SNH office when we are doing anything in the area.  We also ask our canoe hire customers to get in touch before they arrive, particularly at more sensitive times of the year, e.g. breeding season.
History of Loch Maree
The area is rich with history too.  Between the years 671 and 722 Máel Ruba arrived at Loch Maree, and founded a chapel on Isle Maree. Remains of this chapel were reportedly still visible in 1861 but no traces now remain, although the burial ground associated with the chapel is still there.  A small covered well on the island is said to have been consecrated by the saint.
Thomas Pennant, writing in 1772, recorded that the waters of the loch were thought to have curative effects.  Supposedly, being submerged in the water was thought to be a cure for lunacy.  However, I think to go for a swim in the loch on anything but the warmest of Scottish summer days would suggest you are already in the grips of lunacy!!
Why visit Loch Maree?
It's wild and remote
It's stunning to look at
It's rich in natural and cultural heritage
It offers adventure and a place to learn
It's just awesome!
Need I say any more!