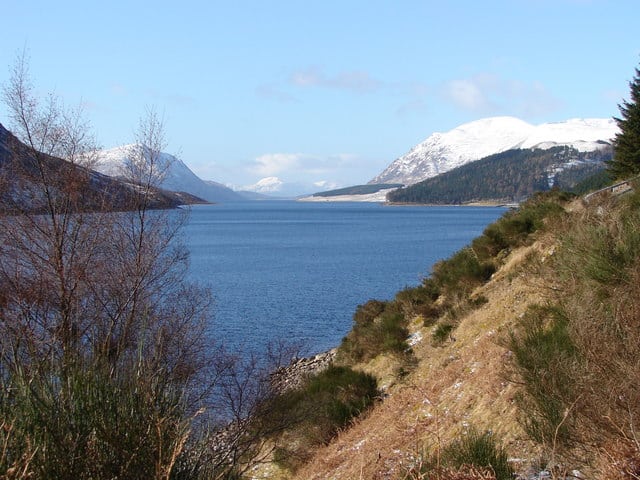 Loch Ericht (Scottish Gaelic, Loch Eireachd) is a freshwater loch on the border between Perth and Kinross and the Highlands with a north-east to south-west orientation.  The village of Dalwhinnie lies at the north east end of the loch and it is the tenth largest freshwater lake in Scotland.  Loch Ericht is surrounded by a number of Munros, including Ben Alder (1148 metres) and Geal-Chàrn (1132 metres).
So what???  Well, take a loch surrounded by mountains and you have a great recipe for adventure lovers.  We've been getting more and more enquiries about canoe hire for this location and it seems there is more to it than meets the eye.
Access to Loch Ericht for the explorer is easy, with great road and rail links leading to Dalwhinnie.  Accessing the water is pretty straightforward from there.  It does have a bit of a reputation for being a bit like a wind-tunnel, so if you are planning a trip, it's best to keep this in mind and have someone with paddling experience in your group.  Headwinds are hard-work, although the journey back could make up for it, particularly with a canoe sail in your expedition kit.
Once you get on the water, the chances are that you'll need to camp at least one night if making your way to the far end of the loch.  There are some infrequent little bays to put your tent up and help shelter you from the wind (if there is any).
At its southern-most point the Loch starts draining down towards Loch Rannoch and the Tay System (while it makes its way to the River Spey from the northern end at the same time).  However, before you reach that point you pass what is likely to be the most popular stop-off point at Alder Bay.  It is from here that some lucky Munro-baggers will start their ascent of Ben Alder and its neighbouring rocky masses.  The alternative is a long walk or cycle into Culra Lodge from Dalwhinnie, or walk from Loch Laggan.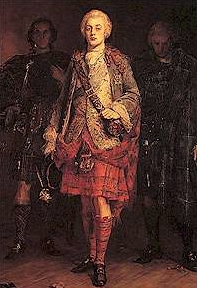 What many that start at Alder Bay will probably not be aware of, is that none-other than Bonnie Prince Charlie is said to have spent a couple of nights hidden in a cave there as he made his way to the coast in order to escape Scotland for France (with his life or at least imprisonment).
Walkers and historians have long sought to establish the whereabouts of the hideout where the Young Pretender stayed with Cluny MacPherson in early September 1746, after five months on the run.  Although the site of this cave was a bit uncertain for a while, back in 2017 some Prince Charlie enthusiasts found what they are pretty certain is the actual cave he hid in (known as Cluny's Cage).  With a hard to find location, signs of a fireplace leading up a natural chimney and some other clues to hand, they are hopeful this could be it.
'The Cage' sat in a small thick bush of wood. Trees were laid on the floor, arranged to compensate for the incline in the ground, and covered in earth and gravel. The trees overhead created a natural thatch with a space made for a chimney to flow.  According to accounts, the Cage could contain six or seven people, with four regularly stationed there – one usually playing cards, one keeping watch, one baking and another firing bread and cooking.  Charles left here on September 13 1746.
So, if you happen to land at Alder Bay to climb Ben Alder, keep in mind that you could be walking in the footsteps of royalty,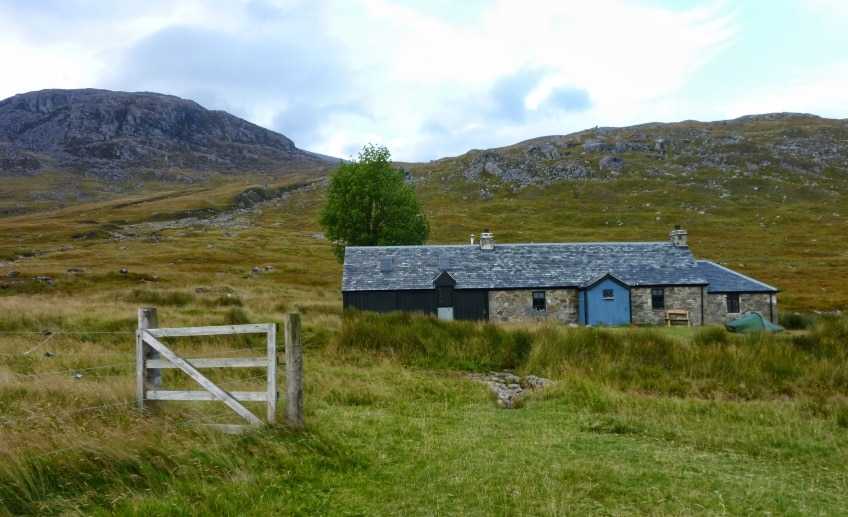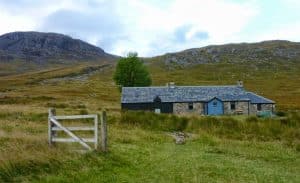 albeit royalty on the run!  There's a bothy there too – see here
You can of course do this all on foot, but if you have a bit of paddling experience (not for beginners) and are prepared for potentially windy, wavy conditions, then do consider this for a Munro-paddling option.  Paddlers that have been, say it is an awesome place to explore in canoe, offering a real sense of being in the wilderness, particularly as you reach the southern end of the Loch.
For the wildlife lovers out there, you will have a pretty good chance of coming across the local wildlife (Red Deer almost guranteed at some point), or if you're lucky perhaps an Osprey or even an eagle, amongst many other birds of prey that patrol the skies above.
I hope you've enjoyed reading this and do hope you might pass it on to anyone else you think might be interested.
If you like the idea of 'paddle-walking' some Munros in Scotland (hills over 3000ft/ 914m) do check out an older blog post of ours – Paddle Walking Munros.  Plenty more ideas for you to think about!
Also of interest might be 12 Bothies that can be reached by kayak (or canoe) – article from The Scotsman