Tim Peal and Nikki Woodroffe recently undertook a charity challenge on the Great Glen Canoe Trail and this is how it went…

In an effort to raise money for Cancer Research UK and The British Heart Foundation we decided to attempt the Great Glen Canoe trail, which connects the east and west coasts of Scotland. Starting in Fort William and arriving in Inverness, kayakers have to cross Loch Lochy, Loch Oich and the famous Loch Ness along with various sections of the Caledonian Canal to complete the 95 km journey. It is recommended that people attempt to complete this over a period of 5 days… We decided to try and complete it in 4.
The Great Glen Canoe adventure is the 3rdof our yearly Family challenges.  2 years ago we cycled the Coast to coast route from Workington to Sunderland in 3 days and Last year we completed the 3 Peaks Challenge in under 24 hrs.

Our group consisting of Tim Peal, 53, Nikki Woodroffe, 39, Greg Newton Jones, 19, Alycia Class, 17and Newport Free Grammar students  Emma Peal, 16, and Jack Peal, 15, arrived at Corpach Lock, the official starting point of the Great Glen Canoe Trail, in torrential rain on Thursday at about midday.  The first job was to load the kayaks with everything we would need for the next four days of hard paddling and camping.

Nikki had brought along a set of Walkie Talkie type radios to help us keep in touch. We had no real idea of the conditions that we might meet and wanted the ability to keep in touch if we got separated.

After a slow start with everybody getting used to the extra weight and feel of the kayaks, the team got into their stride and paddled to their first portage at Lock Gairlochy.  Much confusion and struggle ensued while we struggled with lifting the Kayaks out of the water and figured out how to attach the portage trolleys.  After wasting 15 minutesfailing to attach the trolleys, we ended up carrying the Kayaks half a mile across land, each weighing about 50 kg each, and finally sitting down to a soggy lunch of pot noodles and bread.  We had used up an hour and wanting to get to a shower and toilets at South Laggan, we climbed back into the kayaks and paddled on in yet more rain.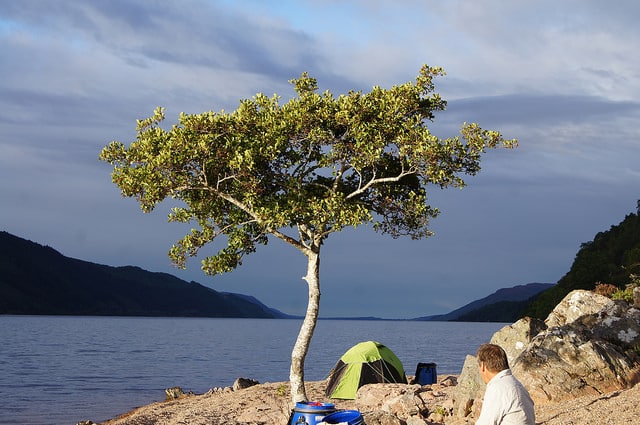 The proposed camping spot at Laggan Lock, some 17 Km away across the team's first experience of open water, the 15km long Loch Lochy, seemed an unlikely prospect.  We paddled out into an 11 mph head wind and choppy waters.  By the half way point the weather had deteriorated further and we were now in a full scale thunderstorm.
With no choice but to grin and bear it, and with thunder and lightning all around us, we paddled on to South Laggan. 7 hours of paddling and 28 Km had been a very long and hard first day of our Great Glen adventure.  Our feelings of relief at having achieved this was short lived as relentless swarms of the dreaded Scottish midges descended on us and any piece of exposed flesh was at their mercy.  Wild camping is allowed in Scotland, so the tents went up on a patch of grass near the canal.  The Scottish Canals association have series of shower and toilet blocks along the route, and for a small fee we were able to get a key, and access to a much needed shower and toilet.
Day 2 dawned, grey and overcast, and we set off still damp from the previous day heading onto the smallest of the lochs, Loch Oich. Very erratic weather accompanied us all morning; from overcast, to downpour with thunder and lightning, to bright sunshine as we neared Fort Augustus.  Our midway 2nd night B&B stop with Loch Ness stretching out before us was just a very long and hard portage away.  Lifting an approximately 50 Kilo Kayak out of the water and transporting it several hundred yards, when you are already exhausted is a very hard way to finish a day! A well-deserved and much appreciated pub supper was had by some of us, while others decided they just needed a rest, although one nutter, Greg, decided to go for a jog!
The weather had cleared overnight and Saturday dawned misty, but mercifully flat calm. The forecast suggested that we would have a light wind behind us until about 2.00pm at which time the wind was predicted to turn and blow back at us. Starting at 9:00am, and with this in mind Tim decided to push the pace hard to try and get as much distance in before the wind direction changed. Stunningly beautiful scenery and glorious sunshine kept us in awe as we knuckled down to the hard pace.
Our first stop at about 11 o'clock confirmed that we were averaging 5 miles an hour and had already got 10 miles under our hulls. The relentless pace nearly caused tragedy, as after a disjointed toilet stop, Jack, the youngest member our group, was the last to get back into his kayak. As the rest of us focused on the task ahead, Jack dropped his sunglasses and ,in his attempt to save them, tipped out of his kayak.
Fortunately, the Kayak did not go completely over. Jack shouted for help, but when none of us heard his call he had no option but to deal with his predicament alone.  We had practiced capsize and rescue technique a couple of weeks before. He was able to drag his kayak to shore, bale it out and get going again.
The nature of this type of trip meant that we had regularly been separated by 20 to 50 metres, and so he had got back into his kayak and got going again before any of us had noticed his distress. His sister Emma, had looked back and when she could not see him, had radioed forward. The rest of the group slowed, but when she looked again Jack was in his Kayak, a long way back, and under way.
It was only when we stopped for lunch and Jack arrived, shaken and upset by his experience, that we realized he had fallen into Loch Ness and had had to deal with the situation alone!  Jack had told us before the trip of his fear of deep water so this had been a real test of character.
We all felt very guilty and the group was very subdued over lunch.
At this point the decisions on what we did next was put into the 4 teenagers hands.
Having discussed the situation, we assessed our options. We had now completed 19.5 miles in 4 hours and the wind direction was changing. We could eitherhead for a rough camp, with no shower, near the Pub at Dores. This was only another couple of miles along on the south side of Loch Ness, or we could cross over to the North side and aim for Loch End and a proper campsite another 2 km along the Caledonian Canal.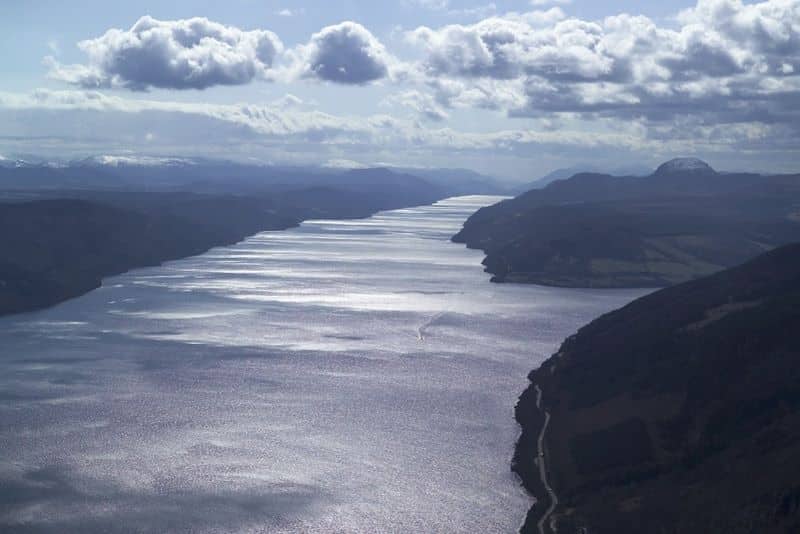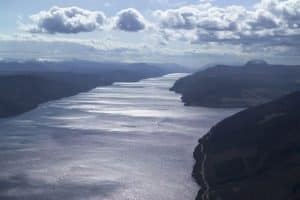 We decided to go for it and in increasing swell and yet more wind and rain we paddled for Loch End.  We considered this to be the most risky part of the trip, and we had to deal with the biggest waves so far. Each kayak would have to turn head on to the worst of them, but fortunately we made the crossing without further drama.

Elated at our achievement we decided to try and make Inverness that night, and so in torrential rain we paddled on.
We eventually arrived in Inverness 10 hours after leaving Fort Augustus. The only thing keeping us from our van and another Scottish Canals shower block was The Muirtown Locksystem,and a final 600 metre portage.
As a group we were exhausted but delighted by our achievement .
We had experienced Scotland in an exhausting but massively rewarding way.
Well one guys from all at Boots N Paddles (now In Your Element).