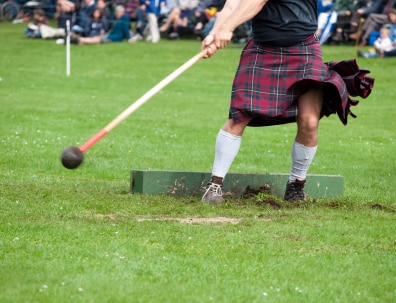 Have you ever seen those kilted men-mountains going head to head in what might be considered as some unusual sporting events?  Well, in our experience at least, more and more people are just dying to have a go at traditional Highland Games and find out a bit more about what it's all about.
A lot of people might have seen these awesome competitors tossing the caber (the size of a telegraph pole!), but might not be familiar with throwing the weight for distance, the Highland shot put, weight over the bar or the Scot's Hammer.  For some less serious events we also include Haggis Hurling and Chucking the wellie as options in our Highland Games offering.  Most of these events appear at first to be all about strength, and the one with the biggest muscles wins.  However, despite the fact that strength comes into it there is also a huge amount of technique involved, and this is what makes the difference between the best competitors and the rest.
What are Highland Games all about? 
Well, like many sports, its roots go back a long way. The origin of human games and sports predates recorded history. An example of a possible early games venue is at Fetteresso, although that location is technically a few miles south of the Scottish Highlands.
It is reported in numerous books and Highland games programs, that King Malcolm III of Scotland, in the 11th century, summoned contestants to a foot race to the summit of Craig Choinnich (overlooking Braemar). King Malcolm created this foot race in order to find the fastest runner in the land to be his royal messenger. Some have seen this apocryphal event to be the origin of today's modern Highland games.
There is a document from 1703 summoning the clan of the Laird of Grant, Clan Grant. They were to arrive wearing Highland coats and "also with gun, sword, pistill [sic] and dirk". From this letter, it is believed that the competitions would have included feats of arms.
However, the modern Highland games are largely a Victorian invention, developed after the Highland Clearances.
More info about Highland Games can be found on Wikipedia.
If you're looking for something different to do for a stag weekend, a corporate away day or perhaps even for a family event, we have smaller, lighter equipment for the less-muscley amongst us, to encourage everyone to have a go.  This has been one of our biggest sellers in 2011 so far.
If you like this post why not 'Like' it on Facebook.