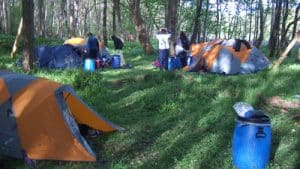 Getting out into nature with the family is certainly one of the most unique bonding experiences on Earth. Not only do you get to spend a few solid days with your young ones but you'll also teach them a thing or two about the world and survival. Of course, going camping with children is a little different to doing it on your own so there are few important things you will have to remember to keep everything safe and enjoyable.
1) Choose Your Food Wisely
When going camping with adults, you can bring along a few rolls of bread and some meat jerky and you're all happy. With children though, you'll need to pack a few extra items so they enjoy the meal times and get the nutrients they require. Of course, you won't be able to bring along the entire kitchen cabinet either! Before you depart for your trip, there are some essential food packing tips that you need to follow. These will help lighten your load while still giving everyone a truly sumptuous meal at the campground.
– Leave any excess packaging at home
– Portion your food so you take what you need
– Place ingredients into small plastic containers
– Use sachets for condiments if possible
– Label everything to avoid confusion
These extra steps will make mealtime so much more enjoyable for the entire family without having you lug too many foodstuffs out to the campsite.
2) Bring Along Play Items
Once you've arrived at the campground and pitched your tent, your children may find plenty to do in the surrounding area from exploring the forest to taking a dip in a nearby creek. Of course, they may eventually get bored of this so it's important that you bring along something to entertain them while they're there. This is especially important at night-time when it gets too dark to enjoy the natural surrounds. From playing cards to sports equipment, there is plenty that you can pack so your little ones don't get bored while there!
3) Dress Them Appropriately
It's also important to think about clothing and what items your children will need to stay safe and comfortable. When planning for your upcoming family adventure, be sure to shop for high quality waterproof outdoor clothes from reliable stores. There you'll find plenty of superior gear so your children are taken care of while exploring the rugged wilderness. Be sure to look at the weather forecast and figure out what the temperature is likely to be while there. Then make sure you have some top quality clothes so you and the family are as comfortable as possible during the hike and at the campsite.
4) Don't Be Cheap on the Gear
Following on from the above tip, it's also important to choose some excellent quality camping gear. Don't be put off by the high price either as these items will help you stay healthy and uninjured while in amongst nature. Get a tent that can fit all of you. One of the larger models in which you can stand up is also recommended. While you're out shopping, make sure to get top rate versions of the following items too:
– Sleeping mats
– Sleeping bags
– Backpacks
– Camp stoves
– Lanterns
Just browse the selection of gear available and think carefully about what you'll need to stay safe and happy in the wilderness with your family.
Following these four simple tips will help you enjoy some time camping with your little ones. Be prepared and you can spend an unforgettable few days amongst nature without having to worry about whether your children are safe while there.
Author bio:
Trekwear

is a UK-based online retailer of affordable and quality of outdoor clothing, skiwear, and camping equipment.